Applying GFSI Food Safety Culture Requirements
The application of Global Food Safety Initiative, GFSI Food Safety Culture requirements is an extensive task that is meant to change the way workers look at food safety. For many companies, this change in organizational mindset is easier said than done. We've broken down some of the key components to cover for GFSI Food Safety Culture so that your organization can make sure that it's on the right track.
How Training Can Help to Meet GFSI Food Safety Culture Requirements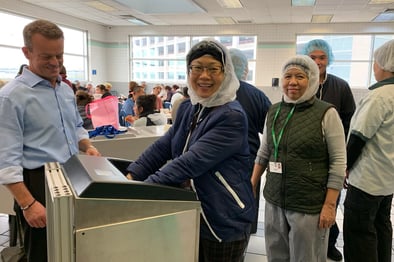 The key to training is consistency. The world of food safety is always changing as new technologies and processes as well as new pathogen detection methods arise. Organizations should emphasize the importance of food safety from the moment new employees walk through their doors. Training doesn't end with onboarding. Periodic food safety training should take place across shifts at a facility throughout the year to ensure that all employees are up to date with current GFSI standards and procedures.
Learn more about food safety culture training!
Defining GFSI Food Safety Culture Goals
Just like with any organizational planning, it is crucial to develop attainable goals that your facility can hold itself accountable to. It is necessary to measure where your organization is currently regarding food safety culture in order to set these goals. You can start by asking the questions: How is hygiene compliance at my facility? Are employees adequately policing their own behavior without the need for reminders? What processes are in place to help minimize cross contamination? Are these processes documented to ensure consistency across the organization?
Learn more about measuring food safety culture!
Discussing GFSI Food Safety Culture With Your Teams
One major mistake that a company can make when trying to improve their own food safety culture is keeping their own team members out of food safety culture conversations. Organizations that exceed GFSI Food Safety Culture requirements recognize that food safety is the responsibility of every employee from the C-suite to the production line. Daily huddle talks are a great opportunity to bring up hygiene SOPs and allow employees a space to bring up any concerns that they are seeing regarding food safety culture.
Download our hygiene zone huddle talking points!
If you must remind any employees of proper procedures in the moment, you can do this in a serious but open way. Rather than just telling them that what they did was wrong, you can correct their behavior and remind them of exactly why the SOPs that your company has in place are important for food safety. This can resonate with them better and they're more likely to retain this information the next time they are working.
Companies that have adopted CleanTech® Automated Handwashing Stations have seen exponential improvements for hand hygiene compliance and showcase a commitment to food safety excellence to both their employees and GFSI auditors. One of our customers, HelloFresh put it best:
Compliance-wise, Meritech has helped out tremendously. For example if you're in a GFSI audit scheme, one of the things they want to look for is your management commitment. Seeing the investment [in CleanTech®] right when you walk in, is huge."
Explore CleanTech® Automated Handwashing Stations!