Customer Success Story: HelloFresh
Customer
HelloFresh
Location

Filmed in Irving, Texas
CleanTech® is implemented across US HelloFresh locations

Industry
Food Processing

HelloFresh is the world's leading meal kit company and at the forefront of food safety with an unmatched level of commitment to delivering safe products to their consumers. Meritech partnered with HelloFresh to standardize employee hygiene programs across all US facilities through the implementation of CleanTech® Automated Handwashing Stations.
About HelloFresh
HelloFresh is the largest meal kit provider in the United States. They ship over a million boxes of recipes and ingredients to their customers with the aim to minimize food waste and allow their customers to cook balanced meals without having to trek to the grocery store. This places a great amount of trust upon them from their customers since all the food required for their meals is shipped straight to their door directly from HelloFresh. It is because of this that food safety is of the utmost importance to their operations.
What Challenge Did CleanTech® Automated Handwashing Solve for HelloFresh?
HelloFresh needed a solution to old way of employee hygiene which included employees washing their hands in sink basins and required constant policing of proper handwashing techniques from food safety supervisors. Given the large number of employees that work in their production areas as well as the large amount of foot traffic these areas saw, policing every employee proved to be an overwhelming task. Enter CleanTech®.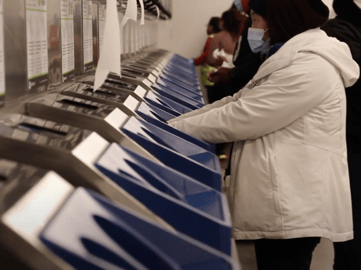 With the addition of CleanTech®Automated Handwashing Stations that replaced the sink basins, it was no longer necessary to monitor proper handwashing techniques since every hand wash is done the same for every employee who places their hands in the CleanTech® system. This provided HelloFresh with peace of mind for their hygiene zones and allows them to easily train new employees on handwashing with the systems.
"You stick your hands in and it does all the work for you. The easier you make it, the more fun it is, your employees are going to follow that. That's been really great for us."

- Ahsha Abu-Ali, Associate Director of Food Safety at HelloFresh
Learn more about CleanTech® for Food Processing
CleanTech® Automated Handwashing Stations Installed at HelloFresh.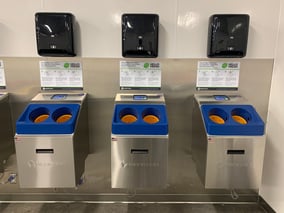 After examining the needs of HelloFresh's facilities, we selected the CleanTech® 500EZ for their hygiene zones. CleanTech® Automated Handwashing Stations are clinically proven to remove more than 99.9% of harmful pathogens from hands in just 12 seconds with zero waste of water or chemical. The compact nature of the 500EZ allows for the installation of more units in their facility to cater to areas with high foot traffic. "Being able to [wash hands] faster, more efficiently, and in a lot easier fashion, especially for your employees has been huge for us." Abu-Ali says.
Learn more about the CleanTech® here
Partnering with Meritech to Ensure Hygiene Excellence
Meritech does more than just provide the CleanTech® Automated Handwashing Stations. To ensure that HelloFresh's hygiene zones remain in peak condition, our service teams are readily available should any issues arise. Abu-Ali says, "Things that make Meritech stand out, aside from the great line of products is the customer service. Call, email, doesn't matter, the response time is very fast. So, if there is an issue, there's someone at your facility the next day. Being able to offer those things an in such a fast amount of time has been invaluable to us."