Where Should CleanTech® EVO be Used for Hand Hygiene?
It's no secret that CleanTech® EVO Automated Handwashing Stations are useful in high-traffic areas such as schools, hospitals, and airports where many people pass through and touch common surfaces. Additionally, these systems can be used in food facilities, laboratories, and other places where hygiene and sanitation are paramount. However, one place in particular would benefit greatly from the implementation of automated hygiene and processes. That place is food processing hygiene zones.
Read about the different markets that are best for CleanTech® EVO
A Solution for Every Hygiene Zone
CleanTech® EVO Automated Handwashing Stations utilize touchless technology to dispense hygiene solution and water during 12 second wash cycles, making them a more hygienic option than traditional handwashing methods that require touching knobs, handles, or buttons. Food facilities across the globe have already seen impressive results when it comes to compliance from using our CleanTech® Classic systems over the years.
By offering a sleek, inviting design and advanced compliance data tracking, CleanTech® EVO takes our innovative technology to the next level. Now food safety managers can rest assured that their team members always know how to properly use the system with the display's looping instructions. The touchscreen admin dashboard also allows them to monitor which shifts are using the technology effectively.
Learn more about how CleanTech® EVO improves compliance
If your hygiene zone is built in a space-constrained area though, what should you do? We have options that were designed to accommodate a wide range of different hygiene zones!
Compact Hygiene Zones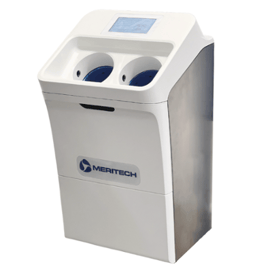 For smaller facilities that do not require a large hygiene zone, we have the CleanTech® EVO Wall Automated Handwashing Station. This single station wall mounted system was designed to replace individual wall sinks meaning that it can fit anywhere where basic plumbing and power hookups are located. It offers the same automated hand hygiene benefits of the larger stations at a fraction of the size so your hygiene zones can achieve hygiene excellence without compromising space.
Supplemental Hygiene Zones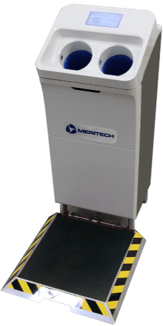 For areas that are meant to serve as transitional zones between workstations, we have the CleanTech® EVO One Automated Handwashing Station. This free-standing single-station is ideal for places where only one or two systems are needed. It can easily be placed against a wall and even utilizes our footwear enhancements that ensure simultaneous hand and footwear hygiene. Our Sole Clean Enhancement works for dry environments and our Wetted Boot Dip Enhancement works for wet industrial environments. You can even use the CleanTech® EVO One station with our Controlled Access Turnstile that ensures that every person entering the facility has clean hands and footwear. The CleanTech® EVO One also works well in satellite hygiene zones in the transition areas between raw and ready to eat products. Seeing a CleanTech® EVO station serves as a reminder to both staff and visitors that hand washing is necessary before entering the area.
Spacious Hygiene Zones
In facilities that require high throughput hygiene events for large shift changes, we have the CleanTech® EVO Three Automated Handwashing Station. This free-standing triple-station ensures that up to three users at a time can wash their hands quickly and effectively. These stations are an ideal replacement for multi-user sinks such as wash fountains. In fact, two CleanTech® EVO Three stations can be placed back-to-back in the center of a hygiene zone just like wash fountains so that users can approach the systems from both sides. This system can also utilize the same footwear enhancements that the EVO One station can for even more comprehensive hygiene.
Take our product selection quiz to help us understand which station is right for your needs!
Finding out which CleanTech® EVO Station is right for you doesn't have to be difficult. In fact, we have a team of hygiene zone experts who are dedicated to helping you choose the right station. Contact us today to schedule a hygiene zone design consultation!