The Benefits of Creating a Food Safety Culture
Companies that have invested in creating a food safety culture all have one thing in common: improved hygiene compliance. That is why food safety leaders have been trying to tap into cultivating a food safety culture for their organizations in recent years. We'll explore the benefits of creating a food safety culture and how one company easily improved their food safety culture with the implementation of automated hygiene technology.
Exceed Regulatory Standards
by Creating

a Food Safety Culture

Meeting mandatory USDA FSIS and FDA FSMA regulations, exceeding food safety standards like Safety Quality Food (SQF) and BRCGS, as well as passing 3rd party food safety audits by certification programs from organizations like NSF International are at the core of most processes and procedures in food manufacturing. Creating a food safety culture helps bring written processes and procedures and hygiene best practices to reality by ensuring that upholding food safety standards is at the core of every decision or action by individuals in the organization.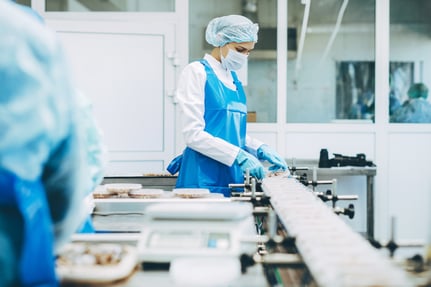 Since CleanTech® Automated Hand Washing Stations have already met the food safety standards set forth by both the USDA and FDA, our automated hand hygiene technology is being used across the food processing industry to ensure that all organization's employees are getting both the fastest and most consistent hand wash for their hygiene zones. This makes hand washing compliance easier so that food safety leaders can focus on other areas of the facility that need attention.
Learn more about how CleanTech® meets regulatory standards!
Prevent Recalls by Creating a Food Safety Culture
According to a joint industry study by the Food Marketing Institute and the Grocery Manufacturers Association, the average cost of recall to a food company is $10 Million in direct costs, lost sales and brand equity deterioration. However, all the costs and efforts associated with tracking a tainted product through the food chain, lost customer sales, and lost brand confidence with consumers could be avoided by creating a food safety culture at your organization. A food safety culture helps every member of the organization from the executive who would be directly impacted by a costly recall to the production team member just clocking into work, feel accountable for ensuring the quality and safety of food products.
One of the most effective ways to maintain and reinforce a food safety culture at your facility is to encourage each person to think like an owner. Employees should be empowered to uphold themselves and others to hygiene best practices, be comfortable addressing poor hygiene practices, and be responsible for maintaining the cleanliness and supplies in hygiene zones.
Learn more about the costs of food recalls!
How Honey Smoked Fish Company Created a Lasting Food Safety Culture
Honey Smoked Fish Company needed to ensure staff were washing their hands properly every time and with traditional sinks, there is often human error, and the process does not encourage frequent use. By implementing CleanTech® Automated Handwashing Stations from Meritech, Honey Smoked staff members now have a simple and effective handwashing method that "serves as a safety reminder that cleanliness is important in everything we do," says Executive Chef Keith Jones. CleanTech® removed human error and the simplified hand washing processes, in turn, improving hand hygiene compliance.
The CleanTech® stations show staff and customers that hygiene is a priority and that Honey Smoked is dedicated to quality and food safety. Jones says, "Everyone knows that we are trendsetters, in our processes and our thoughts and the way we do things we are looked at as leaders and CleanTech® supports that image. " By investing in automated hygiene Honey Smoked sets it apart by being a leader in food safety and hygiene best practices.
Learn more about why automation is best for food safety in our "Why Automation?" ebook!