How Does CleanTech® Comply with Food Safety Standards?
CleanTech® Automated Handwashing Systems were created to simplify hand washing across all industries. From healthcare to education, we've seen organizations embrace this innovative technology and integrate it into their daily operations. For the food processing industry, we knew that this easier process must meet the stringent requirements of the FDA, USDA, and other regulatory bodies. We've ensured that CleanTech® meets or exceeds all FDA requirements for food service as well as all USDA FSIS requirements for use in meat and poultry processing.
Automated Hygiene Compliance with FDA
Food Safety Standards
The 2017 FDA Food Code mentions automated hand hygiene facilities multiple times. Each time it states that these hand washing stations must be approved and capable of removing the types of soils encountered in food operations. Since CleanTech® Automated Handwashing Stations have been clinically proven to remove 99.9% of pathogens from hands, once the stations are correctly installed in a facility and they are being used properly by employees, they meet these standards set forth in the latest FDA Food Code.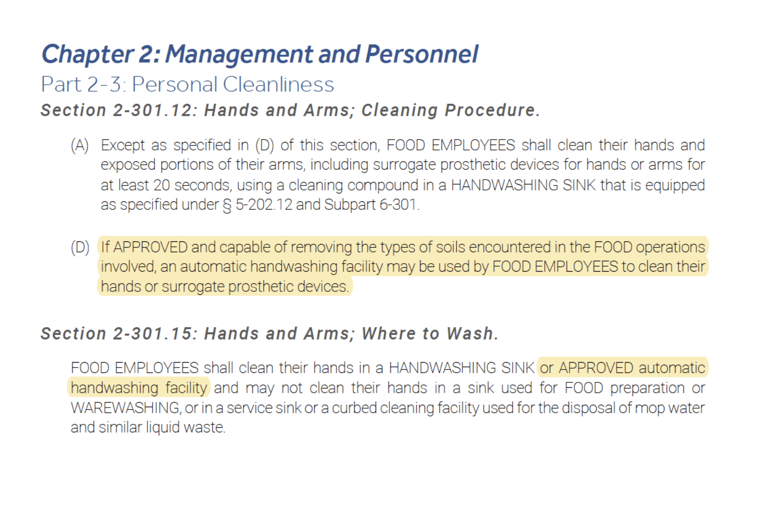 Apart from being mentioned in the 2017 FDA Food Code, CleanTech® Automated Handwashing Stations have also been directly addressed in letters we've received from the FDA. In a 2011 letter, they mention that:
[The] FDA does not object to the use of the CleanTech® system... for the purpose of general skin cleansing by employees in a food establishment, provided that all provisions of the Food Code relevant to its use are met..."
In 1999, the Assistant Director for Codes & Practice of the Retail Food Protection Branch of the Center for Food Safety and Applied Nutrition stated that:
We find the CleanTech® systems to be consistent with the criteria of section 3-201 of the model Food Service Sanitation Code as it relates to hand washing. Therefore, it is our opinion that the equipment is deemed acceptable for the purpose of hand washing in retail food establishments."
Automated Handwashing Stations Comply with USDA's Food Safety Standards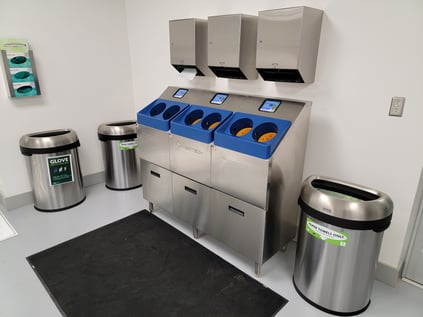 In 1992, Meritech received a letter from the USDA's Food Safety and Inspection Service which stated that "[CleanTech®] may be used in federally inspected meat and poultry plants", provided the systems create no adverse conditions or safety hazards and are maintained and operated in a manner acceptable to the inspector. Meritech ensures that each CleanTech® system installed at a facility is set up to operate at peak performance so that inspectors can readily see that the systems are up to the USDA's standards.
Learn about how we've tested CleanTech® efficacy here!
Since CleanTech® Automated Handwashing Stations have already met the standards set forth by both the USDA and FDA, our automated hand hygiene technology is being used across the food processing industry to ensure that every organization's employees are getting both the fastest and most consistent hand wash for their hygiene zones.
Learn more about why automated hand hygiene is trusted by leaders in the food processing industry here!