Replacing Stainless Steel Hand Sinks with CleanTech®
Stainless steel hand sinks can be found in most commercial and industrial buildings around the globe. They're cheap, easy to maintain and familiar to almost everyone. For those reasons it might seem like too much trouble to replace them, but it's a simple process that we've perfected with CleanTech® Automated Handwashing Stations at our Colorado headquarters.
Why Replace Stainless Steel Hand Sinks with CleanTech®?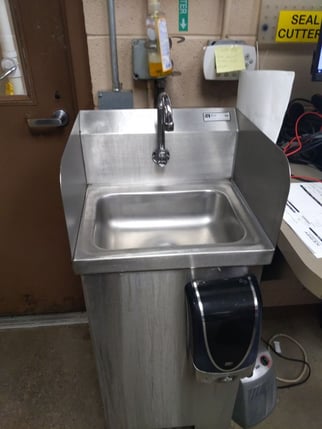 When it comes to comparing a manual hand wash with a stainless-steel hand sink to a CleanTech® automated hand wash there is no contest. Independent clinical studies have validated that hands washed with a CleanTech® Automated Handwashing Station have 99.9% of pathogens removed in each 12 second wash cycle. The reason for its superiority lies in our patented technology that we've perfected over the past 35 years. Each CleanTech® Automated Handwashing Station is equipped with 40 nozzles, 20 for each hand, with 8 of those 40 nozzles specifically focused on the fingertips. These nozzles rotate around the hands 23 times in 12 seconds, pulling harmful pathogens from the hands, each time.
Regular soap traditionally used with stainless steel hand sinks cannot guarantee any level of pathogen removal since each manual hand wash is different. Fortunately, CleanTech® and UltraPure, our unique hand hygiene solution, were developed together to guarantee that high level of pathogen removal, protect skin health and protect the integrity of the CleanTech® station.
Learn more about why commercial hand soap is unreliable!
How Can Your Stainless-Steel Sinks be Replaced with CleanTech®?
Replacing a stainless-steel hand sink is easy! In fact, we recommend taking the "One Sink Challenge". By just replacing one of your sinks with CleanTech® you'll be able to see all the benefits of automated hand washing quickly and you'll be able to compare the results with any manual sinks nearby.
It's also no hassle to commit to CleanTech® with CleanTech® Plus. With CleanTech Plus you can try out automated handwashing risk free for 60 days with free shipping and all included hygiene solutions. Once you've decided to join the hygiene revolution and integrate CleanTech® at your business, we begin the manufacturing process for your station at our headquarters in Golden, Colorado.
Learn more about the pitfalls stainless-steel commercial sinks
Where should you replace stainless-steel sinks with CleanTech®
When it comes to deciding on a location to place your station, we recommend a place that is both convenient and practical. Many people assume that the best place for the stations is in a bathroom. In most businesses however, this is not ideal since there are many touch points between main areas and bathrooms where pathogens can be reintroduced on to the hands after a hand wash. That is why for most businesses and commercial kitchens placing a CleanTech® system in a high traffic area is ideal since people can wash their hands and immediately get back to another task without touching any doors or handles.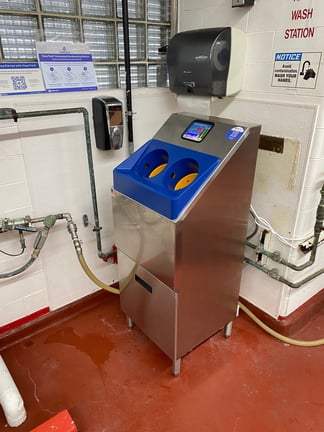 When your order is ready to ship, we provide everything that is necessary for an effective install. When it arrives at your business the only things that CleanTech® requires is hot and cold water and electrical hookups. Each customer also gains access to our Digital Owners Guide filled with online training resources that provide step by step instructions on installation, basic use, and maintenance of your automated handwashing station.
Learn more about CleanTech® for commercial businesses!