Creating the Future of Hand Hygiene: Introducing CleanTech® EVO
In recent years, there has been a significant evolution in the field of hygiene. People now have a much greater understanding of the impact that handwashing can have on both themselves and those around them. However, this increased awareness does come with its own challenges and considerations. A common misconception among the general population is that time is the most important factor when it comes to washing hands. It is crucial to understand that what a person does during the time they spend washing their hands, as well as following proper manual hand washing procedures, significantly impacts the effectiveness of hand hygiene. Despite being well-informed, human error is inevitable. Drawing from our extensive experience in the industry for over 35 years, we have developed the most advanced hand hygiene technology that not only eliminates human error but also delivers the most effective hand wash possible. That technology is called CleanTech® EVO.
CleanTech® EVO: Ushering in the Future of Hand Hygiene
Several decades have been spent testing CleanTech® handwashing technology in the field. It has revolutionized hygiene zones in the food industry and has impressed cruise ship passengers across the globe. We've always stated that when used properly, CleanTech® provides "the perfect hand wash" experience. So why make changes to a product that has done so well?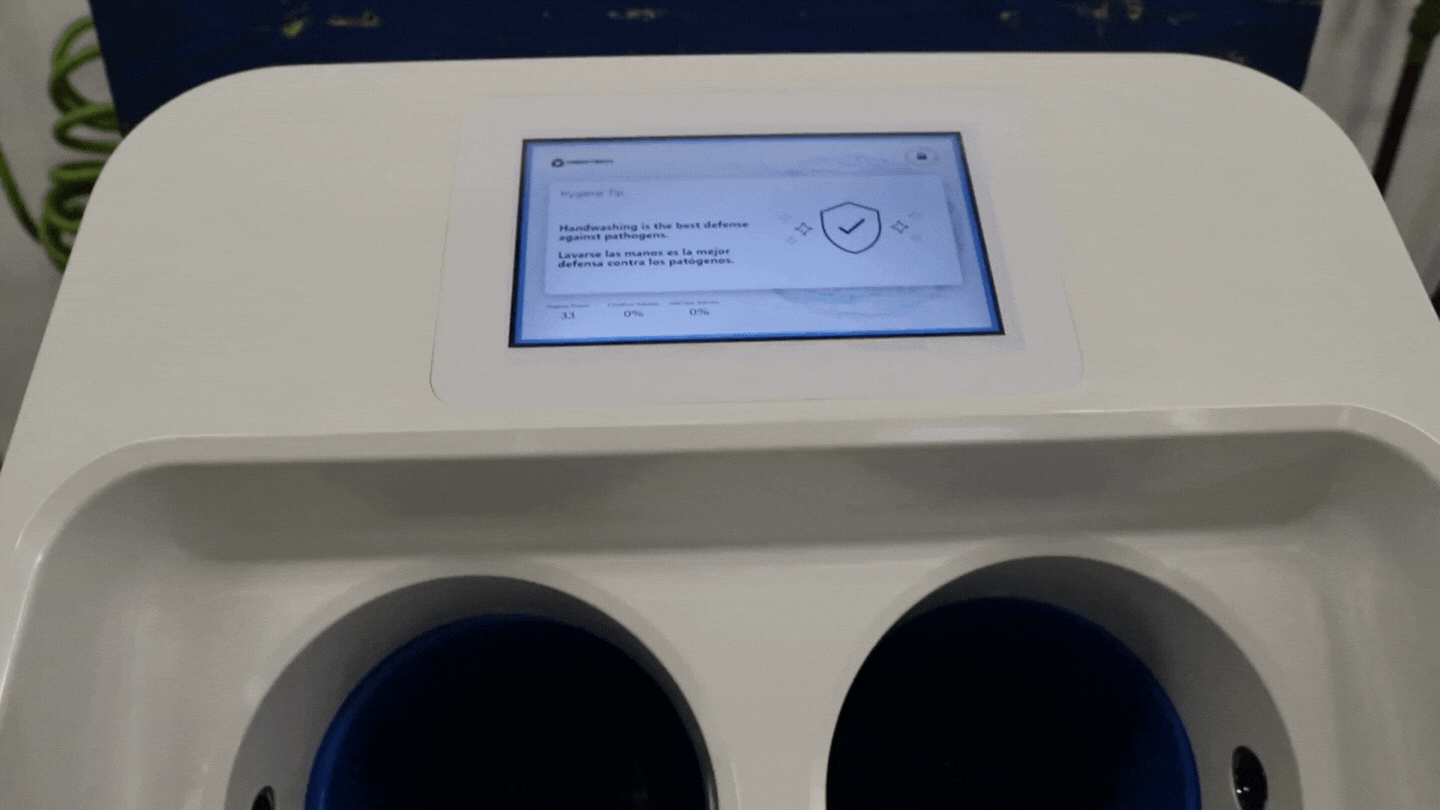 CleanTech® EVO remains at the forefront of handwashing technology, maintaining its effective 12-second touch-free hand wash that eliminates 99.9% of harmful pathogens from both hands with every use. However, the exciting change lies in the way users engage with the CleanTech® EVO systems.
Learn how CleanTech® removes more than 99.9% of pathogens
Vibrant Touchscreen Interface
The presence of a touchscreen on the CleanTech® EVO display may seem contradictory to its touch-free hand wash functionality. However, it is important to note that the CleanTech® EVO display is not intended for frequent touching. Instead, it is designed for managers to track compliance data and access training video materials. The screen will continuously provide hand washing tips to assist new users in getting started with the system, along with a countdown timer to indicate when it is time to remove their hands. This feature not only promotes better hygiene compliance within organizations but also streamlines the onboarding process for new team members.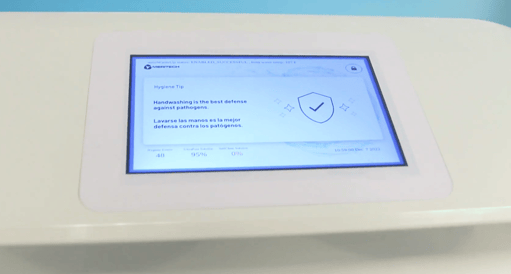 Sturdy and Stylish Design
CleanTech® EVO is not only designed for tough industrial environments but also for any public facing or back of house setting. Our team meticulously selected PC-ABS plastic and stainless steel materials, known for their exceptional durability, while also giving careful attention to the overall aesthetics. This ensures that the CleanTech® EVO Hygiene Station seamlessly blends into any environment it is placed in. With four different types of EVO systems available for all industries, there is a perfect fit for every hygiene need. The CleanTech® EVO Wall can easily replace wall sinks as it is wall mounted, while the CleanTech® EVO One is free standing and can be conveniently placed wherever necessary. For areas with high traffic, the CleanTech® EVO Three, a triple station unit, offers optimal accommodation. Lastly, the CleanTech® EVO In-Counter effortlessly integrates into any countertop fixture, providing a sleek and functional handwashing solution.
Take our product selection quiz to find out which system is right for you
Eco-Friendly Design

Our dedication to sustainability was a top priority during the development of CleanTech® EVO. Similar to our classic systems, every drop of water and hygiene solution used during each wash cycle is utilized, resulting in minimal water waste. To further enhance our commitment to the environment, we introduced recyclable solution cartridges, this innovative approach significantly reduces landfill waste and supports our partners in their eco-friendly initiatives.
Learn more about how CleanTech® EVO saves water
Innovation has always been the key to providing the best hygiene experience for our customers and their employees. One of our customers, The Jel Sert Company said it best, "[CleanTech® Automated Handwashing Stations] have become the cornerstone of our Good Manufacturing Practices. Quick, easy to use, and effective!" CleanTech® EVO showcases a commitment to health and safety by further evolving hand hygiene to provide the most advanced and effective experience for every user.
See what our customers have to say about partnering with Meritech