What are the Benefits of Using CleanTech® EVO for Hand Hygiene?
Designed to provide a faster, more efficient, and touchless hand washing experience, CleanTech® EVO Automated Handwashing Stations promote good hand hygiene and reduce germ and infection spread. Many companies had already seen their facilities improve their hand hygiene by switching to CleanTech® over the years. With CleanTech® EVO employers can be certain that their employees are receiving the perfect hand wash, every time.

Join us for a webinar on March 28th as we explore "How CleanTech® EVO Works" and answer any questions you may have about automated hand hygiene.
Improved Hand Hygiene with CleanTech® EVO
CleanTech® EVO stations utilize the latest automated hand hygiene technology for an effective and thorough hand wash every time. Built-in photo eye sensors ensure that hands are properly washed and rinsed without a user ever needing to touch a switch or button. This eliminates both the risk of cross-contamination between users and the risk of human error that is prevalent in any manual hand washing method. There are too many variables involved in manual hand washing which makes it impossible guarantee clean hands every time. CleanTech® EVO Automated Handwashing Stations are backed by over 50 clinical studies that validate the efficacy of the technology.
The CleanTech® EVO stations are also designed to reduce the amount of time people need to wash their hands, making them more efficient than manual hand washing. In just 12 seconds, 99.9% of harmful pathogens are removed from the hands. In busy environments that require frequent hand washing like hospitals, schools, and food processing facilities, this is especially beneficial. More hand washes can get done in a fraction of the time compared to manual hand washing. Managers no longer need to worry if their teams are washing their hands for the proper amount of time.
Learn about the different industries where CleanTech® EVO is ideal
Sustainable Hand Hygiene with CleanTech® EVO
A proper manual hand wash can waste a considerable amount of water depending on type of sink or user. With CleanTech® EVO, every drop of water and hand hygiene solution that is dispensed during each 12 second wash cycle is used for the hand wash. This will reduce any unnecessary water waste that typical sinks usually waste.
Learn about saving water with CleanTech®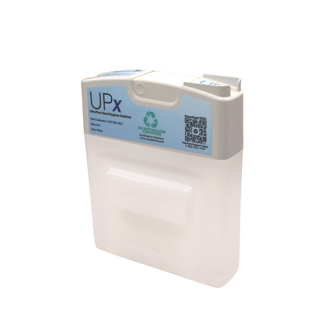 Our CleanTech® EVO UPx Hygiene Solution Cartridges are also recyclable and can be sent back to Meritech to be reduced which will greatly reduce landfill waste. No more throwing out soap containers or wondering if they're recyclable. Each smart cartridge is clearly labeled and compact which also saves on storage space.
Learn more about Meritech hygiene solutions
User-friendly Hand Hygiene
CleanTech® EVO Automated Handwashing Stations are easy to use and require minimal training for new employees. In fact, with the help of CleanTech® EVO's new touchscreen display new users can easily see how to operate the system with helpful looping instructions. There are also automated hand hygiene training videos that can be accessed by managers in the password protected dashboard. If managers are wondering if one of their shifts needs additional hand hygiene training they can access valuable compliance data as well on the display. There should be no doubts about what the systems are for once introduced to your facility and employees shouldn't have any issues washing their hands with CleanTech® EVO since UPx hygiene solution contains added moisturizers that keep the hands hydrated and healthy.