Customer Success Story: Ken's Foods
| | |
| --- | --- |
| Customer | Ken's Foods |
| Location | Across the United States |
| Industry | Food Processing |
Ken's Foods has partnered with Meritech to install CleanTech® Automated Handwashing Stations and Automated Boot Scrubbers to ensure the health and safety of their employees and consumers in four facilities across the country. Learn more about Ken's Foods' amazing commitment to hygiene in this customer success story with CleanTech® below:
About Ken's Foods

Ken's Foods traces their roots back to 1958 in the basement of Ken's Steak House, an eatery in Framingham, Massachusetts that was renowned for their salad dressings. They quickly gained popularity and are now a renowned name in the food service industry, supplying their sauces and dressings to restaurants, theme parks, sporting venues, and grocery stores. Since Ken's has been a household name in the US for decades, they've been hyper-focused on food safety and quality control. They even have all three SQF certification levels to prove it.
"It's all about creating a safe product." - , Jim Stevens, VP of Supply Chain
Automated Hygiene Equipment Installed at Ken's Foods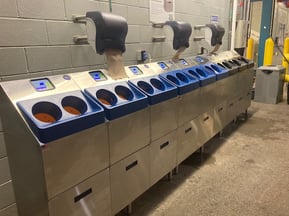 Ken's Foods and Meritech began working together back in 2009 by installing CleanTech® 4000S & 2000S handwashing stations in 3 facilities located in Nevada, Georgia, and Massachusetts. This allowed Ken's Foods to handle high throughput while achieving the highest levels of hand hygiene for food safety. Additionally, by implementing CleanTech® across multiple facilities, Ken's Foods was ensuring consistent levels of quality and food safety across all their products!
Designed for industrial production environments, the 2000S and 4000S provided Ken's Foods with a way for their team to quickly wash their hands before entering the production area while ensuring more than 99.9% of pathogens were removed from employees' hands each and every time. The Wetted Boot Dip footwear sanitizing pan used in some of their facilities also attaches to our industrial CleanTech® Automated Handwashing Stations to guarantee simultaneous pathogen removal from both hands and footwear, improving compliance by ease of use.
We know our people are walking in every day with a clean set of hands and a clean set of footwear.", Jim Stevens, VP of Supply Chain
For additional footwear hygiene support Ken's uses an XBW Soles Only Automated Sole Scrubbing Station that scrubs and sanitizes the soles of boots and shoes and is specifically designed for high throughput for a wide range of employee footwear types. This sole scrubbing system continuously applies a strong sanitizing solution to the soles of shoes using a series of high-pressure nozzle jets and spinning brushes.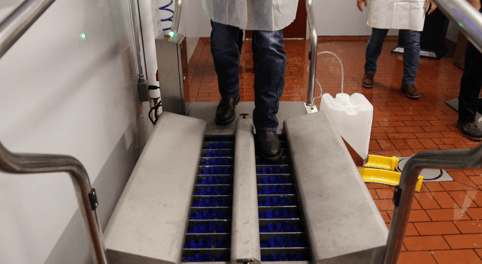 Over the past five years, Ken's Food has installed systems in a new facility in Indiana and has been replacing its systems that were installed back in 2009 in other facilities. Ken's Foods is truly a leader in food safety and their commitment to health and safety can be seen by their continued investment in the very best hygiene equipment.
Meritech Ensures Continued Hygiene Excellence for Ken's Foods
Our hygiene experts continue to work with Ken's to ensure that their automated hygiene equipment remains in peak condition for their hygiene zones. Service teams are also readily available should any issues or concerns arise.
We've incorporated good equipment, good reliability into our facilities and Meritech's a part of our family." Jim Stevens, VP of Supply Chain