Customer Success Story: A Precious Child
| | |
| --- | --- |
| Customer | A Precious Child |
| Location | Broomfield, CO |
A Precious Child (APC) partners with Meritech to install CleanTech® Automated Handwashing Stations to ensure the health and safety of their volunteers, staff, and clients at their Broomfield, CO donation and shopping facility. Learn more about the amazing work APC does to provide opportunities and resources to children in need and why CleanTech® was installed below:
About A Precious Child
A Precious Child assists children and families facing difficult life challenges such as abuse and neglect, crisis situations, and poverty. They Work with over 546 Agency Partners to identify the children and families in the most need.
APC offers "Cradle to Career" support to its clients, meaning assistance can be found from diapers to career training. This type of support is designed to break the cycle of poverty and reduce socioeconomic inequalities by connecting clients with needed resources, services, opportunities, and educational support. APC bridges the gap in a child's education and unmet needs so every child may become a secure, self-reliant, contributing member of the community.
CleanTech® 500EZ Fully Automated Handwashing Stations Donated to A Precious Child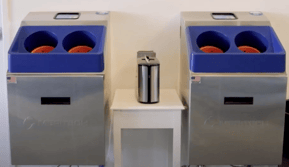 A Precious Child has on average 5000-6000 volunteers walking through their doors every year touching donations for their resource center. With all of those people in your facility, it's important to provide a safe and clean environment for both volunteers and clients. When APC found out about Meritech they immediately identified the need for automated hygiene in their facility. We were so happy to begin a partnership with them through the donation of two CleanTech® 500EZ Automated Handwashing Stations.
Designed for high throughput, the 500EZ provided APC with a way for their volunteers to quickly wash their hands before entering the facility area while ensuring more than 99.9% of pathogens were removed from hands each and every time.
CleanTech® Helps A Precious Child Reach their Health & Safety Goals
Installation of the CleanTech® 500EZ Automated Handwashing Station at A precious Child helps keep their facility healthy and safe by ensuring volunteers and clients receive the perfect hand wash.
There are a number of ways you can support A Precious Child through donations, volunteering, family sponsorship, and more! If you would like to get involved with A Precious Child click the link below to learn more.