Meritech's Automated Handwashing Systems Help Rudy's BBQ Win The Sani Award™ for Best Food Safety Focused Guest Experience
By implementing Meritech's CleanTech Automated Handwashing Systems for guest and staff use in 8 restaurants, Rudy's and Mighty Fine Burgers of Texas give customers and employees an easy opportunity to remove 99.98% of dangerous pathogens from their hands before and after dining, keeping the entire community healthier
GOLDEN, CO / APRIL 22, 2015 – K&N Management, licensed area developer for the Austin area Rudy's Country Store & BBQ and the owners of Mighty Fine Burgers, Fries & Shakes fast casual restaurants, reminds employees and customers that the company is com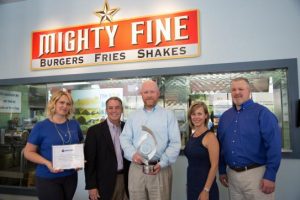 mitted to a strong Food Safety Culture by utilizing Meritech's CleanTech Automated Handwashing Systems. The systems are installed both front of house— making them easily accessible for customers and increasing hygiene throughout their restaurant — and back of house for employee use.
Since 2004, there have been 4,529,309 handwashes delivered across 8 K&N restaurants in Austin, Texas. All locations have seen an increase in returning customers because Automated Handwashing is a part of the engaging restaurant experience. The CleanTech handwashing systems are fun to use, and encourage customers to wash their hands before eating and after eating Texas barbeque and burgers.
Sani Professional®, the food safety division of PDI, Inc., and the Sani Professional® Food Safety Advisory Council (SPFSAC) announced the winners of the first Sani Awards™ program earlier this year. The Sani Awards program celebrates innovation and excellence in food safety and promotes best practices within the foodservice industry for education/training, employee/customer programs and guest experience. The award will be presented to Rudy's BBQ at the Food Safety Summit in Baltimore, Maryland on April 29, 2015.
About K&N Management
With a mission to deliver Texas HospitalitySM, K&N Management is the owner and operator of Mighty Fine Burgers, Fries & Shakes, as well as the licensed area developer of the four Austin area locations of Rudy's Country Store & Bar-B-Q. As the winners of the 2010 Texas Award for Performance Excellence, and having been recognized as one of the Top Places to Work in Austin two years in a row, K&N was also the 2010 recipient of the Malcolm Baldrige National Quality Award which recognized them as a role model in business. Learn more about K&N Management here.
About Sani Professional
As a purpose-driven company, Sani Professional is committed to making food preparation & service convenient, safe & cost effective with EPA-registered & food-code compliant solutions. They are rooted in the prevention of Community Associated Infections and take pride in helping their customers meet the highest food industry safety standards. Read more about Sani Professional here.
About Meritech
For over 20 years, Meritech has offered a complete line of NSF certified, fully-automated handwashing systems and boot scrubbing machines that provide a technology-based approach for improving employee hygiene, reducing bioburden contamination and preventing infection. Meritech serves customers in a range of industries, including food production, cleanroom manufacturing, restaurants, theme parks, higher education, and cruise lines.
All of Meritech's CleanTech Automated Handwashing systems deliver a 12-second wash and rinse cycle, removing 99.98% of dangerous pathogens from bare skin and gloved hands. Meritech automated handwashing systems require less than half the time of a manual wash, use 75% less water and soap an
d produce less discharge waste. Meritech CleanTech systems guarantee every customer and employee washes effectively every time, and demonstrates a commitment to a strong food safety culture.
For more information:
Visit the Meritech website here.
View handwashing demonstrations here.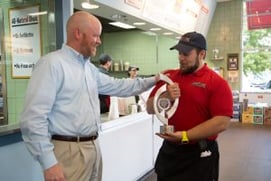 Media contacts:
Liz Meitus
Meritech
(800) 932-7707
lmeitus [@] meritech.com