New Line of Controlled Access Handwashing Systems Raising the Bar to Meet New Food Safety Standards and Regulations
Meritech's new CleanTech 2000SCA Automated Handwashing System with Controlled Access option insures complete control of hand hygiene for your facility's ever more stringent employee hygiene SOPs. CleanTech systems are clinically proven to remove 99.98% of dangerous pathogens from skin or gloved hands.
GOLDEN, CO / APRIL 6, 2015 – Whether you're completing a Six Sigma program, or improving your BRC, SQF, and GFSI system, or staying ahead of the "c" in cGMP, you can be confident that your brand is protected with Meritech's newest innovation — the CleanTech 2000SCA Automated Handwashing System with turnstile controlled access feature and additional options. Compact design makes it extremely versatile and it is designed for easy cleaning and maintenance (CIP design).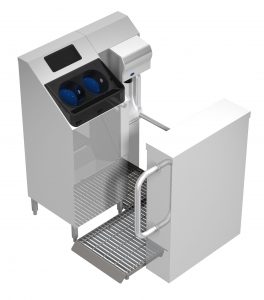 The 2000SCA turnstile entry is fully integrated with the CleanTech system and will automatically open at the end of each employee's 12-second handwash cycle. With Meritech's 2000SCA installed at each entryway, food safety managers, inspectors, and auditors can be confident that every person entering the facility is clean and safe.
"This is really the optimum solution in production facilities to ensure food safety — truly controlled hygiene without the need to constantly monitor employees to see if they're washing correctly," said Michel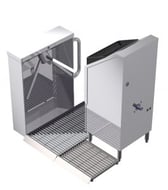 e Colbert, VP of Sales & Marketing for Meritech.
All of Meritech's CleanTech automated handwashing systems deliver a 12-second wash and rinse cycle, removing 99.98% of dangerous pathogens from bare skin and gloved hands. Meritech automated handwashing systems require less than half the time of a manual wash, use 75% less water and soap and produce less discharge waste. Meritech CleanTech systems guarantee every employee washes effectively every time, and demonstrate your commitment to a strong food safety culture.
About Meritech
Meritech offers a complete line of NSF certified, fully-automated handwashing systems and boot scrubbing machines that provide a technology-based approach for improving employee hygiene, reducing bioburden contamination and preventing infection. Meritech serves customers in a range of industries, including food production, cleanroom manufacturing, restaurants, theme parks, higher education, and cruise lines.
For more information:
View Meritech's CleanTech 2000SCA here.
View handwashing demonstrations here.
View Meritech's line of boot scrubbers here.

Media contacts:
Liz Meitus
Meritech
(800) 932-7707
lmeitus [@] meritech.com
###