Hygiene Zones 101: Core Steps in a Food Manufacturing Hygiene Zone
by Meritech, on July 16,2020
In this video we review the 5 main steps that individuals should take when going through the core hygiene zone at a food manufacturing facility:
Download the hygiene zone ebook to learn more about hygienic zoning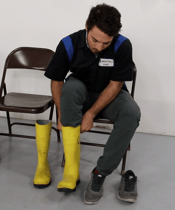 1. Footwear Donning & Sanitation
Team members should don plant shoes or boots, thoroughly sanitize their footwear and don shoe covers if necessary.
2. Donning Frocks or Smocks
Team members should don their frock, smock and sleeve covers making sure all sleeves are pulled down to the wrist and all buttons are buttoned.
3. Personal Protective Equipment
Team members should don PPE in the correct order: hearing protection, beard net, mask (if applicable), hair net, and eye protection.
4. Manual or Automated Handwashing
Either a full 20 second manual hand wash or a 12 second hand wash using an automated handwashing station
5. Hand Drying
Step five, the final step within the hygiene zone processes, drying the hands. This can be done either with an air dryer or paper towel. We recommend paper towel as it is less likely to cross-contaminate the hands.
At Meritech, we strive to educate hygiene and food safety leaders about best practices within their hygiene zone. Visit our resource center to learn more about hygiene zone best practices or learn about our hygiene zone design consultation services with our hygiene experts here.