Hand Hygiene 101: Manual Hand Wash Overview
The most well-known and commonly-used handwashing method involves manually washing hands in a traditional sink where the faucet is manually turned on and off and soap is manually dispensed.
Benefits
Potential Concerns
- Low cost
- Familiar system to all
- Highly dependent on user
- Unreliable and inconsistent level of pathogen removal
- Difficult compliance tracking
- Uses an average of three gallons of water per wash
Manual handwashing sinks serve as a fair low-cost option that is familiar to all. No matter the style, the mechanics of these main types of manual handwashing sinks are essentially the same:
| | | |
| --- | --- | --- |
| | | |
| Knee or Foot-Pedal | Manual Faucet | Multi-User Fountain or Trough |
Unfortunately, while these systems may be familiar, that does not mean that most people know how to wash their hands correctly in them, or will do it properly every time. And that is the main drawback to manual sinks: human behavior. No matter how stringent your handwashing procedures and SSOPs are, humans are prone to variability and error, resulting in poor hand hygiene and increased risk of pathogen spread.
Whichever type of manual sink is used, its efficacy depends on how thorough each individual is during the handwashing process. The length of time and the steps taken during handwashing are crucial to ensure pathogen removal.
The recommended steps for manual handwashing include: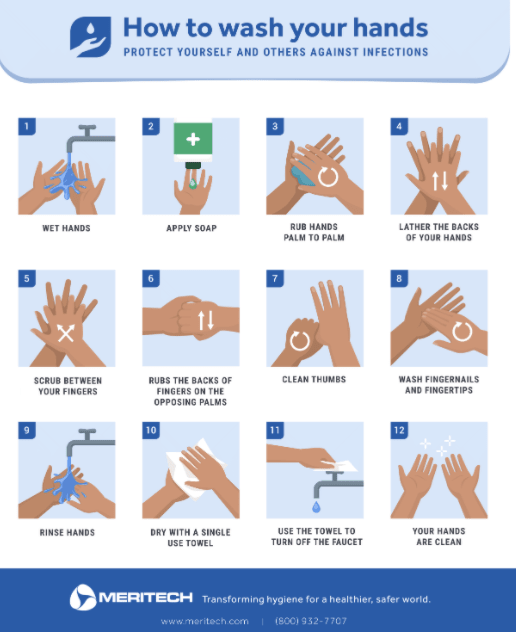 Wet your hands with clean, running water (warm or cold)
Apply soap
Lather your hands
Scrub your hands for at least 20 seconds. (Need a timer? Hum or sing "Happy Birthday" from beginning to end twice.)
Rinse your hands well under clean, running water.
Dry your hands using a clean towel or air dry them.
Relying on traditional sinks requires added time to train and continually re-train team members on the proper handwashing steps to ensure consumer safety. With increased workforce diversity, the challenge of training for hygiene is compounded. In the same token, you are also relying on these same individuals to always be diligent about avoiding cross-contamination touch points such as turning off dirty faucets with clean hands.
---
For further reading please explore our "Why Automation?" page. This will showcase exactly how automated hygiene is better than manual hygiene.