If you're taking a cruise... Use these tips to stay healthy while setting sail!
If you're one of 22 million people setting sail on a cruise ship vacation this year, you should listen up! Even though cruise lines have taken steps recently to raise the bar on their health and sanitation practices onboard, germs always find a way in the picture when you're living in such close conditions with other travelers and crew. The last thing you want during treasured vacation time is getting sick with a case of GI or foodborne illness. Especially keep in mind that alcohol gels and wipes do NOT kill Norovirus, the leading culprit of cruiseline outbreaks. Here are a few things to think about before you take a sip of that piña colada….
Thoroughly Wash your hands with soap and water using a sink or an automated handwashing system! Realize we sound like a broken record with this one, but it's always worth repeating. The CDC and leading healthcare agencies all agree that handwashing is the #1 way to reduce the spread of germs and infectious diseases. And it's not just around food and drinks that you need to make sure you're staying clean.
Be cautious when handling food, ie; at the self-serve buffet. It's always the best idea to let the cruise dining staff serve you instead of heading down the self-serve buffet line. You never know what germs are lurking on the salad tongs.
Don't gamble your health away. According to a study from Rossen Reports, one of the dirtiest germ-ridden surfaces on a ship is in the casino! Unexpected since it's far from the food and frozen yogurt buffet. We'd recommend washing before and after pulling those slot machine handles.
Germs love poolside hot spots. The same Rossen study found that lounge chairs around the pool are not as clean as all the chlorine would make you believe. Take caution when you're lounging and soaking up the sun to avoid touching surfaces and moving from the pool area to food and other areas of the ship.
And for those of you traveling during the cruise months, be sure to wash your hands in Meritech's Automated Handwashing Systems onboard. We are proud to serve our customers with the leading hand hygiene technology; with a wash that guarantees your hands are 99.9% germ-free.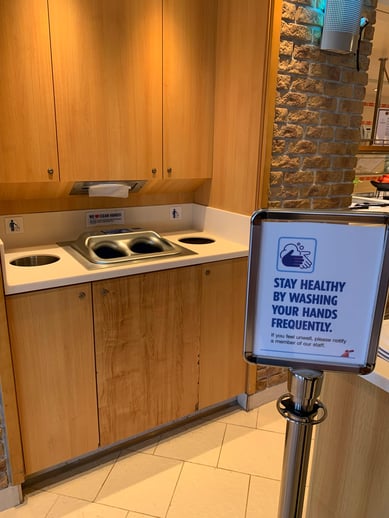 Source: http://www.today.com/money/cruise-ships-may-carry-unwelcome-passengers-germs-t12336
For more information about CleanTech

Automated Handwashing Stations for cruise, contact our partners in Maritime hygiene and safety: Vikand. Vikand is advancing health and safety in the industry providing medical service solutions to 170+ cruise vessels, impacting 14,000,000 guests and 120,000 crew globally annually as well as numerous other maritime and remote industry clients worldwide.