Meritech's AGILE Company Values
At Meritech, we believe that in order to create a healthier, safer world we must redefine human hygiene. We know that this is an ambitious goal, and in order to fulfill it, we need to create a culture that helps support each of our efforts to fulfill that mission.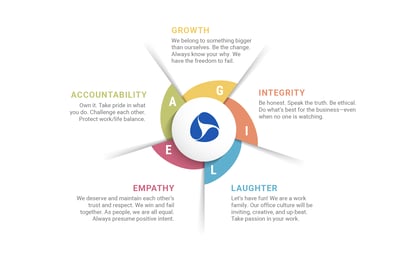 The foundation of this culture is our AGILE values:
Accountability
Growth
Integrity
Laughter
Empathy


What does AGILE mean?
Our AGILE values allow us to connect and thrive as a work family, and guide us in our daily interactions with our customers, partners in hygiene excellence and philanthropy partner as we endeavor to safely connect individuals through hygiene education and automation.
We created this framework by asking everyone across all departments and levels of the organization: "What values do you see in the perfect teammate?" Based on these responses, we created AGILE, which truly represents the best in each of us and forms the social code that we have each committed to operating from.
Accountability
Own it. Take pride in what you do. Challenge each other. Protect work/life balance.
Accountability is our first value because above all else we knew that we needed to trust one another in order to redefine human hygiene and create a healthier, safer world. We encourage each person to take ownership of their projects and daily activities and trust each other to get that work done.
"A team is not a group of people that work together. A team is a group of people that trust each other."

- Simon Sinek
By having clear goals and managing by the numbers we empower each team member to operate with full accountability for their efforts and provide transparency throughout the organization so it's easy for each person to see how their contribution maps to the bottom line.
Not only do we hold each other accountable for our daily tasks but also for ensuring that each person on our team protects their work/life balance. As a Colorado company we have all fully adopted the state's "Work hard, play hard" motto and encourage each other to spend time with our families, go for a hike in the Rocky Mountains, or whatever else brings you joy so you can come in fresh-minded and ready to tackle the week on Monday!
Growth
We belong to something bigger than ourselves. Be the change. Always know your why. We have the freedom to fail.
In order to grow as an organization, we knew that we had to create an environment where each member of our team feels comfortable to share and try out their ideas, and also to fail. We've hired talented and creative people and want them to feel comfortable shining a light on any problems or ways that we can do things more effectively and present a solution. At Meritech there's no such thing as "that's not my job" we grow or fail together as a team so we always need to feel comfortable challenging each other to look for ways to improve our daily work, department operations, and efforts as a business.
Integrity
Be honest. Speak the truth. Be ethical. Do what's best for the business - even when no one is watching.
As a work family each one of us strives to be honest and truthful in all of our interactions and do the best thing, even when no one is watching. Likewise we want to work with partners in hygiene excellence who are always on the lookout for hygiene risks that may not be noticed but an auditor but may pose a threat to their consumers. We want to partner with teammates and organizations who are not afraid to point out a problem and reach out for help. At Meritech, we sell more than automated handwashing systems, and strive to form partnerships with like minded businesses who have an equal desire for educating their team on hygiene and implementing more effective and comprehensive hygiene processes as an organization.
Laughter
Let's have fun! We are a work family. Our office culture will be inviting, creative, and up-beat. Take passion in your work.
We spend a lot of time at work, and need to make sure that we're having fun as a work family. At Meritech, we understand that all work and no play eventually makes all of us dull and less creative. At social events, and even in our daily interactions, we don't take each other too seriously and use that uplifting energy to help us achieve our goals.
Empathy
We deserve and maintain each other's trust and respect. We win and fail together. As people, we are all equal. Always presume positive intent.
In modern business, email and phone interactions make it easy for communication gaps to arise and everyone to not end up on the same page. At Meritech, we understand that this may happen and always assume the best in each other and trust that we are all aligned to our "Why" as an organization. If conflict does arise, we trust each other to resolve it privately to ensure the respect and dignity of our teammates.
As an organization we understand that one of the most important things that each of us can do is not only listen to each other, but each of our customers. We appreciate any feedback and have worked with our customers for over 3 decades to make changes and enhancements to our systems that would meet their hygiene goal. We truly believe in people over profits and want to be in the trenches with each other and our customers to help overcome hygiene challenges and help make the world a healthier, safer place.