Customer Success Story: Pecan Deluxe Candy Company
| | |
| --- | --- |
| Customer | Pecan Deluxe Candy Company |
| Location | Dallas, TX |
| Industry | Food Processing |
Pecan Deluxe Candy Company partnered with Meritech to install CleanTech® Automated Handwashing Stations back in 2002 to ensure the health and safety of their employees and consumers at their Dallas, TX facility. Throughout the 20+ year relationship, Pecan Deluxe has added more fully automated handwashing stations and added footwear sanitation to support their food safety goals. Learn more about this customer success story with CleanTech® below:
About Pecan Deluxe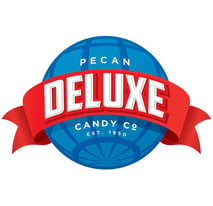 Pecan Deluxe is and always has been a family-owned business. The founder's pioneering spirit continues to guide the company's ongoing success. Pecan Deluxe started as an ice cream shop but decided in 1960 to branch out and began selling their innovative ingredients to other food companies. Now Pecan Deluxe is a massive player in the inclusions, candy, and confections industry.
Though their business has changed quite a lot over the years they have always cared about quality. Pecan Deluxe is the perfect example of a business with a food safety culture. From ownership to production, everyone at Pecan Deluxe cares about hygiene and food safety. Food Safety & Quality Assurance experts work collaboratively to ensure the safety and quality of all Pecan Deluxe products. They do this with strict adherence to program standards for Supply Chain, Plant Processing, and Product Verification.
Pecan Deluxe ensures food safety by automating hygiene processes with CleanTech®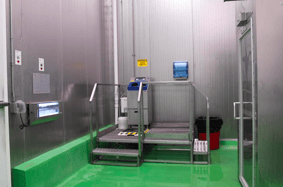 In 2002, Pecan Deluxe Candy Company and Meritech partnered to improve food safety practices. After implementing the CleanTech® 2000S over 20 years ago, Pecan Deluxe now has installed an additional CleanTech® 4000S. After seeing the success of automated handwashing Pecan Deluxe decided to implement an automated boot scrubber and boot dip that attaches to the handwashing units for simultaneous hand and footwear hygiene in 12 seconds.
CleanTech® has been the perfect solution to Pecan Deluxe's hygiene needs. It even helped them earn the 2021 Food Quality & Safety Award for large businesses. This award is a testament to the level of commitment Pecan Deluxe makes on daily basis to achieve the highest levels of food safety.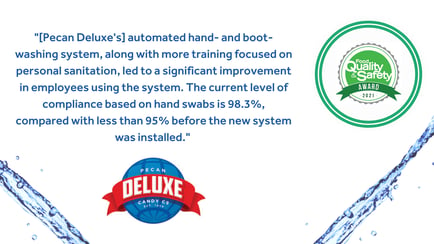 CleanTech® Helps Pecan Deluxe Candy Company Reach their Hand Hygiene Goals for Food Safety
Installation of the CleanTech® Automated Handwashing Station at Pecan Deluxe's production facility in Dallas, TX helped them ensure hand hygiene protocols and lead with the highest level of quality control and food safety at their facility.