Ensuring Hygiene and Employee Safety in Food Processing Facilities During COVID-19
In just a few short weeks, novel coronavirus COVID-19 has changed the entire world. Depending on where you live, simply leaving one's home can be encumbered with numerous restrictions and requirements. For the food processing industry, halting operations is not an option, as it is considered a part of the critical infrastructure.
Thus, maintaining a sterile environment has taken on an even greater urgency as companies work to ensure that the world's food supply is uninterrupted. The FDA has issued additional guidance and safety advisories to help you protect worker health and new procedures to protect workers from exposure to COVID-19. Here's a quick overview on those procedures recommended by the FDA that can help prevent the spread of the COVID-19 at your facility:
Social Distancing for COVID-19 in Food Processing
The risk of contracting COVID-19 increases with close contact and heightened exposure time. With respect to the first variable, the CDC and FDA recommend establishing a buffer zone of six feet between individuals when possible in order to limit the risk of contamination:
To prevent spread of COVID-19, CDC is recommending individuals employ social distancing or maintaining approximately 6 feet from others, when possible. In food production/processing facilities and retail food establishments, an evaluation should be made to identify and implement operational changes that increase employee separation. However, social distancing to the full 6 feet will not be possible in some food facilities." Read More on the FDA's website.
Like the FDA states above, social distancing cannot always be maintained in certain areas of a production facility due to equipment positioning and worker roles. However, it is extremely important to make every effort to establish this social distance in order to keep employees safe. To encourage social distancing among employees, consider using tape or stickers on the floor to to cue workers on the proper social distance or blocking off adjacent sinks so that there is space between workers during the hand washing process.
Face Masks and PPE for Food Processing Workers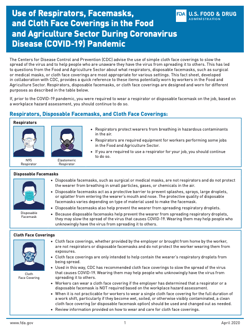 In conjunction with social distancing, the use of personal protective equipment (PPE) is also highly recommended. The CDC requests that N95 masks be reserved for healthcare workers and first responders, but cloth face coverings can provide added protection for non-healthcare personnel. However, according to the FDA if employees choose to wear a cloth face coving they also need to launder them daily before use and maintain them in accordance with parameters in FDA's Model Food Code sections 4-801.11 Clean Linens and 4.802.11 Specifications, as applicable. You can learn more and download the FDA's guide to face masks here.
Food Processing Surface Sanitation for COVID-19
Following FDA Current Good Manufacturing Practices (CGMPs) will provide adequate guidance for basic sanitizing. However, with COVID-19, organizations should increase the frequency and detail required for sanitizing surfaces.
FDA-regulated food manufacturers are required to follow Current Good Manufacturing Practices (CGMPs) and many have food safety plans that include a hazards analysis and risk-based preventive controls...Food facilities are required to use EPA-registered "sanitizer" products in their cleaning and sanitizing practices....Food facilities may want to consider a more frequent cleaning schedule". Read More on the FDA's website.
All surfaces in both production areas and non-hygiene zones should be sanitized frequently. Additionally, special attention should be paid to sterilizing hand washing stations and sinks as these areas can harbor pathogens and become cross-contaminations points for COVID-19. The importance of proper sanitizing cannot be understated - social distancing without adequate sanitizing practices is not enough to guarantee prevention of COVID-19 in a given facility.
Handwashing Best Practices for Food Processing Workers During COVID-19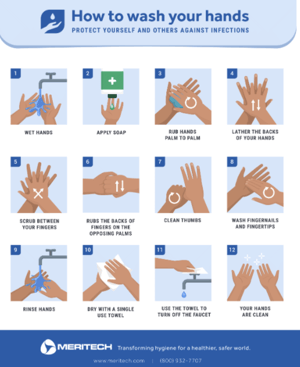 It is critically important to sustain proper handwashing techniques, and hygiene leaders at your organization should constantly reinforce handwashing best practices as part of the ongoing food safety culture. Additionally, employees should be given extra time in hygiene zones during COVID-19 to ensure they follow all necessary handwashing steps.
To save time, ensure proper hand hygiene and give peace of mind to your employees consider automating the handwashing process. CleanTech® automated handwashing stations remove more than 99.9% of pathogens in just a 12-second wash cycle while unique hygiene solutions ensure employee skin health. We would like to help everyone in the industry retain the best of health during this challenging time. For more information about CleanTech® Automated handwashing stations for COVID-19 prevention, please contact our hygiene experts.