New All-Natural Skin Conditioner Addresses #1 Complaint Of Nurses
Meritech / Resurgent Health & Medical launches new skin conditioner in its handwashing stations to combat the occurrence of Contact Dermatitis, which is a result of frequent handwashing and overuse of hand sanitizers
GOLDEN, CO / MAY 20, 2014 – Ask any nurse, in any hospital or clinic, how their hands are feeling today and you might ignite a long list of complaints about the health of their skin and the damage done by harsh detergent soaps and alcohol gel sanitizers. And you will certainly attract other health care workers who will also want to show you the damage and tell you about the pain they feel when they put more alcohol on top of their Contact Dermatitis.
Dry, cracked, ach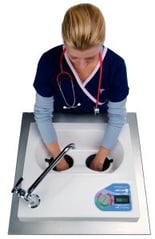 ing hands, and even those with Contact Dermatitis — which can be debilitating until the weeping and oozing have subsided — were the main motivation behind Meritech's parent company, Resurgent Health & Medical's latest innovation, called Ultra- Pure Glisten Skin Conditioner ("Glisten SC"). Glisten SC does exactly as it says – it conditions the skin with pure, all natural moisturizer with nothing added except for fresh, distilled and purified water. Glisten SC is a new product for Resurgent and it will be applied automatically as part of the 12-second wash, rinse and condition cycle that is programmed into every Resurgent Automated Handwashing Machine — delivering the very same highly effective wash with the added benefit of a full application of moisturizing and all natural vegetable based skin conditioner.
This new product from Resurgent will undoubtedly shift attitudes amongst nurses about hand hygiene because Resurgent will clean and condition in one 12-second cycle, all while encouraging more effective hand hygiene without the pain. While nurses, staff, visitors and patients have always been more inclined to utilize Resurgent's automated handwashing systems for their proven efficacy and speed as well as Resurgent's proprietary, gentle, and effective Ultra Pure 2% hand soap, the addition of the second skin conditioner is applied after the rinse to help nurses and others to heal their damaged skin — a win-win for both frequent hand washers, like nurses, and public health.
Using an all-natural plant-based formula combined with purified, distilled water, Ultra-Pure Glisten SC is as pure a formula as you will find to gently repair damaged skin.
About Resurgent Health & Medical
Resurgent offers a complete line of NSF certified, fully automated handwashing machines that provide the only technology-based approach to health care worker hand hygiene in the world, protected by over 25 patents. Resurgent's handwashing systems perform a fully automated 12-second hand wash, sanitize and rinse cycle, removing 99.98% of dangerous pathogens. Resurgent helps hospitals improve their infection prevention programs and works in a wide variety of other markets, including food safety, cleanroom and pharma manufacturing, retail and restaurants, theme parks and cruise lines.
For more information:
Visit the Resurgent website here
View a handwashing demonstration here
Media contacts:
Liz Meitus
Meritech / Resurgent Health & Medical
(800) 932-7707
lmeitus [at] meritech.com